As per request of a reader, this format is align left, just for you!
If you're head isn't stuck in the sand, you should have heard about the sexting scandal Former Congressman and now second-time New York Mayoral nominee Anthony Weiner has been apart of. Weiner resigned from his Congressional role in June 2011 due to the sex scandal and now almost a year later, in-midst of his latest Mayoral race, another sexting scandal broke. This time under the alias "Carlos Danger".
What the hell dude, Carlos Danger, really? Like Weiner isn't good enough...
I have a few issues with this Weiner guy. Although, he is definitely not the first politician to be involved in a sex scandal...

(President Bill Clinton, Mark Sanford, Larry Craig, Eliot Spitzer, John Edwards, & most recently San Diego Mayor Bob Filner to name a few.)

...he may be the first politician to credit his own foreshadowing as justification. Back in 2011 when he publicly spoke about the sexts, he stated that he believed more pictures would most likely be released. Obviously he was right & now he's attempting to use that public statement defensively, with little to no apology. Even worse, in recent interviews, he STILL states that this may not be the end in this saga. What a creep.
Also, have you seen his wife?? She is smoking hot & super smart! (Especially for him....just saying.) She's been an aide to Former Secretary of State Hilary Clinton for years! How he thought he could get away with these sexual shenanigans is absurd. And my main point, as an American with right to vote for my public officials, is how can I trust you when YOUR WIFE that you supposedly love can't even trust you? I wonder if she will stay with him...only time will tell. Personally, I hope not. I hope she moves on with her life and her successful political career and becomes Chief of Staff to 2016 President Hilary Clinton. :)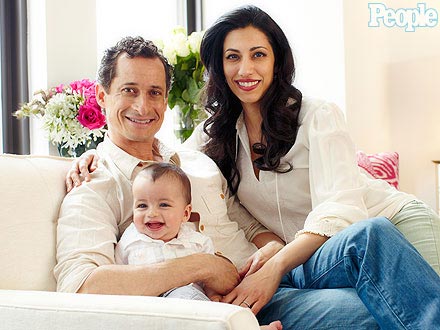 Finally, my biggest point, there is no way a man with so many indiscretions can judge and run a city to his best ability since obviously he doesn't comprehend right vs. wrong. I hope New Yorkers realize this.
This guy is either a sex addict or an attention whore... Either way, his choices aren't just affecting him or his family. He wants the "the keys to the city" & I believe he doesn't deserve them. So much power & control should not be in the hands of a man who doesn't have control of himself or his family.
He could have played this whole thing so different to earn back some of respect but instead he continues to spit out nonsense. This story seriously gets worse & worse every single day. Especially since the release of his Communication's Directors rant calling a former intern and slutbag, cunt, and worse. By the way, this was female on female hate. I wrote about this already so I won't go into too much detail but you can find that post
here.
At the end of the day, be a good person, be a good role model, be a good American politician, be a good husband & father. Take responsibility for your actions. Step down from your race & start looking for another day job.
End. Rant.