A few years back, my New Year's Resolution was to become a better cook & I can proudly say I've dominated the kitchen! I am a cooking fool! It is so relaxing & fun to try out new recipes and see how I can personalize or alter them to make them healthier.
I wanted to share a few of my favorite cookbooks & cooking blogs I follow that have AMAZING & DELICIOUS healthy recipes! I am a vegetarian but I use to live with a house full of carnivore boys. I have learned over time to take the meat out, sub it for a meatless protein like tempeh or tofu or add the meat in for those boys or a dinner party. Practice makes perfect!
BLOGS:
For an inspirational weight loss journey with amazing recipes, check out the below:
http://www.canyoustayfordinner.com/
http://rabbitfoodformybunnyteeth.com/ --- she hasn't updated it in awhile but still good!
http://www.thefitcook.net/
For just the amazing recipes & a good read, check out these:
http://www.eat-yourself-skinny.com/ --- one of my favorite!
http://www.skinnytaste.com/
http://www.generationyfoodie.com/
http://www.mylifeasamrs.com/
http://www.healthybitchdaily.com/cat/kims-blog - see cookbook below
Now for overall fitness & recipes, check out these:
http://www.jinfitness.com/
http://theskinnyconfidential.com/
COOKBOOKS:
I am completely obsessed with these two vegan/vegetarian cookbooks. I will admit I LOVE cheese so I haven't become full vegan & don't plan on it anytime soon so if there is a "vegan cheese" for example, I use regular.
FORKS OVER KNIVES
- based on the amazing documentary. I urge you to check out this documentary when you get a chance or if you need some extra motivation! It will totally kick your ass in gear! You can find it on Netflix streaming. This cookbook is on amazon for about $10. It's worth it! Check out their website: http://www.forksoverknives.com/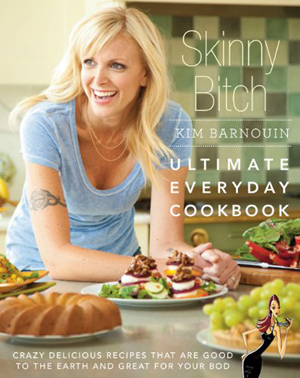 SKINNY BITCH -
You can find her personal blog above. This bitch is wonderful! She is amazingly blunt and will tell you exactly what to do and what not to do. You will fall in love with her recipes & her attitude! You can find other Skinny Bitch books as well but this is my all time favorite! This cookbook is on amazon for about $15.
And of course, don't forget to follow my blog to find some of my favorite recipes as I cook them with step by step instructions & pictures.